Doors officially open at first Strule School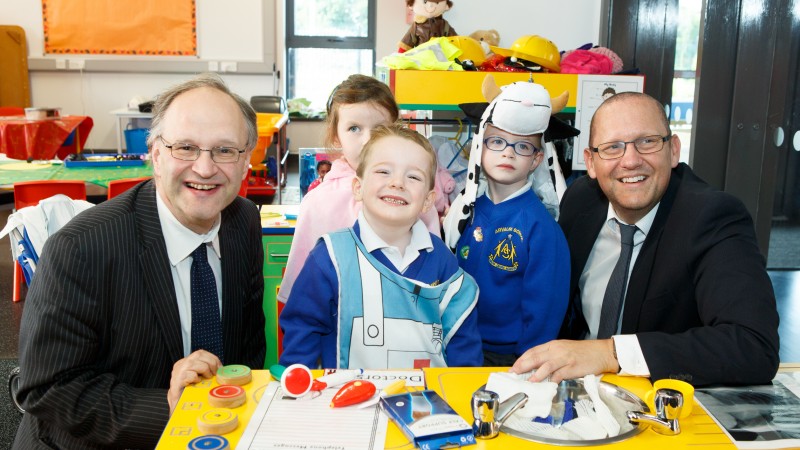 Education Minister, Peter Weir, has visited the new Arvalee School and Resource Centre which is the first school to open on Strule Shared Education campus.
Arvalee teaches young people from aged 3 to 19 years who have moderate and severe learning difficulties.
The single-storey, purpose built building is made up of two distinct wings which house specialist facilities including sensory therapy rooms and courtyards, hygiene and hoisting facilities, and specialist teaching areas for art, technology, design and home economics.

Speaking during a visit to the school the Minister said:
This is a very special day for pupils, teachers, parents and the local community. The new Arvalee School provides state of the art facilities for over 200 pupils and staff.

I am especially pleased that Arvalee is the first to open on the Strule Shared Education Campus following the fire which devastated their former school in 2012.

It has been extremely rewarding to see at firsthand the positive impact this investment has brought to the daily lives of pupils and teachers at Arvalee.

I know current pupils and staff contributed to the design process, and hope that they, along with those starting the school for the first time, will be inspired by their new facilities.
Arvalee is the first of six schools to be completed at Strule Shared Education Campus.

Principal Jonathan Gray said:
This is a great day for Arvalee and for the local community. Our mission is to promote inclusion and enrich the education of children and young people in the Omagh district, so we are very proud to be the first school to open on Strule Shared Education Campus.

Our pupils are always at the heart of what we do, and our new surroundings will allow my team and I to deliver the highest possible educational experience and truly broaden their horizons.

This is an exciting time for both staff and pupils. We are very much looking forward to building our new school community together and welcoming our neighbours onto the campus over the next few years.